Macam-macam keju, ini enaknya punya kamera HP, bisa diam-diam ambil foto2 di etalase toko.



Keju Feta dari Yunani (Greek), warnanya putih dan rasanya agak asin. Cocok buat salad Yunani yang bersama2 cherry tomatoes and iceberg lettuces or other kind of lettuce (selada).



Ingat Jarlsberg? Keju ini aslinya dari Norwegia loh, bukan dari Belanda seperti yang aku kira. Keju ini famous sekali di amrik dan lubang2nya pernah dijadiin guyonan sebagai hasil galian yg dibikin tikus, hiiii...Lihat aja gambar si keju atau keju & tikus di sini, atau di sini, versi kartunnya dan atau humor yang dibikin oleh hasil zoom Google Moon.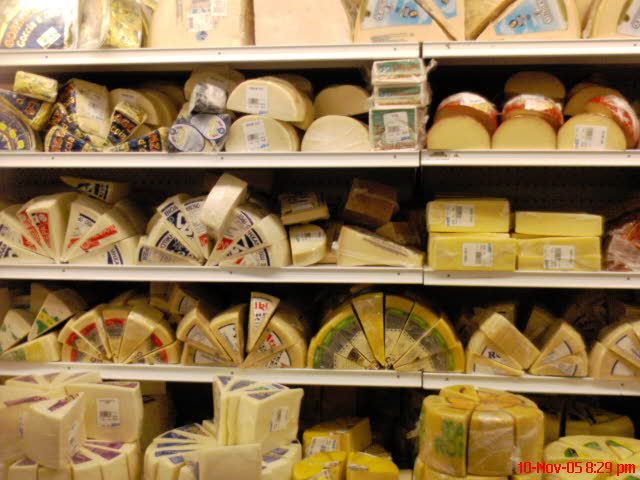 Ini rupa etalase toko bagian cheese-nya. Gimana ya cara abisin keju sebanyak ini?
Yang ini bukan keju, ini macam-macam bacon dan ham import dari Italy, Yunani dan negara2 sekitar kedua negara itu.
Buat yang pengen info tentang keju dan macam2nya berikut gambar2nya click aja ke cheese.com